I know somewhere in your life you have wished for a trip to Jaipur, as the pink city is beautiful mix of royal ambience and modern culture. This city is not just popular for a few beautiful palaces but some of the best restaurants in Jaipur add to the charm of Jaipur. People who live in Jaipur consider themselves lucky, as they have the privilege to experience it every day. 
Once yoiu are done with shopping in Jaipur, Let's explore the best restaurants in Jaipur for you to enjoy your tour with the best foods in this article. So first, let's talk about the top 10 best restaurants in Jaipur. Every restaurant has its own specialty and signature dishes. I am going to tell you everything that will automatically make your food journey in this pink city easy and amazing.
1. Chokhi Dhani: Among the Best Restaurants in Jaipur
Chokhi Dhani is one of the best restaurants cum resorts in Jaipur. This restaurant gives you a true Rajasthani flavor in their food for a great authentic experience. At a distance of 12 miles on Tonk Road, Chokhi Dhani is located in the Sitapura area of Jaipur city. 
Chokhi Dhani Village Resort
You know that the best part about this restaurant is that there are live cultural performances for their customers. 
Their customers became very happy, not just because of the food but also because of the cultural activities they do inside the restaurant. If you love the blend of cultures and food, then the best restaurant in Jaipur for those people is Chokhi Dhani
2. Handi Restaurant
Ranked among the best restaurants in Jaipur, Handi Restaurant is an excellent culinary restaurant in Jaipur, which is also right on the famous MI Road. This is a popular restaurant for North Indian and Mughlai cuisine in Jaipur.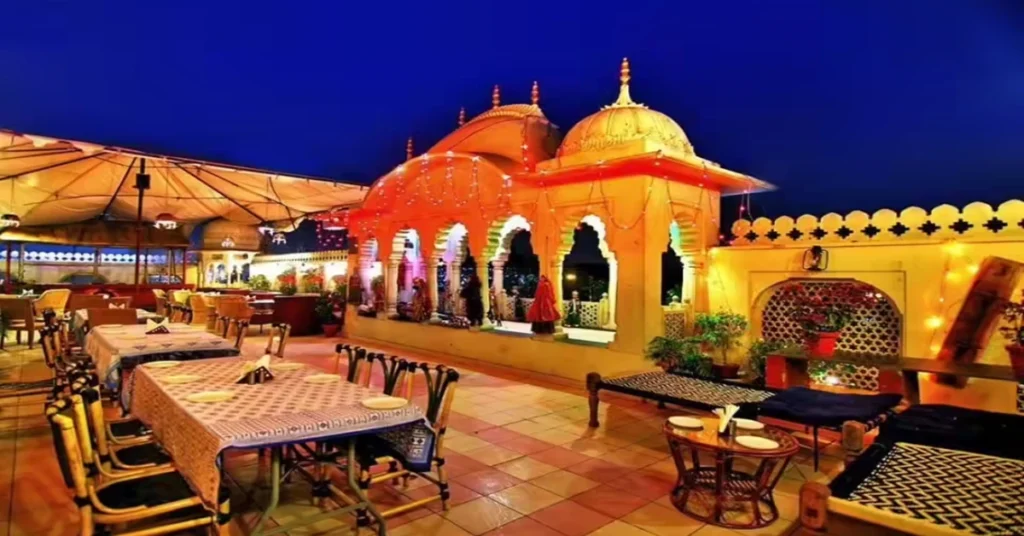 Handi Restaurant, Jaipur
Do you know what the secret is to its big success? Even though it is a restaurant in Rajasthan, it still serves North Indian dishes because of its dedication to making its dishes full of flavor. 
Nonvegetarians who are in love with meat should try their extraordinary dish, which is  Handi Meat. This dish is Mughal cuisine, which makes this restaurant the best restaurant in Jaipur.
3. Suvarna Mahal
I hope you have heard of Rambagh Palace in Rajasthan. There is a restaurant called  Suvarna Mahal inside the Rambagh Palace, which is a royal experience for everyone who visits there. You will find this place on Bhawani Singh Road. 
Suvarna Mahal, Rambagh Palace
This is a truly fancy restaurant that maintains excellent quality and is a good synonym for royalty. Everything, from the beautiful decorations to the traditional Rajasthani flavors, is a tribute to Jaipur's royal heritage.
Laal Maas, which is a spicy Rajasthani mutton curry served here, is an attraction for people who like exceptional dishes.
4. Niros: Featured in the list of Best Restaurants in Jaipur for Decades
People who like Mughlai cuisine should visit this restaurant, Niros. They have been selling North Indian dishes for a long time now. You can find it right on MI Road in Jaipur. Niros is different because it's a delicious and aromatic food they serve. 
Niros Restaurant, Jaipur
Try the Keema Baati, which is a mouth-watering and unique dish that combines Rajasthani Bati with spiced minced meat, and the Mutton Saagwala. These dishes show off the restaurant's cooking skills. This is one of the best restaurants in Jaipur.

5. 1135 AD
Some people are truly fans of history. If you are one of them, then 1135 AD will be a great experience for you. This restaurant is located inside the Amer Fort. 
Can you believe it? This restaurant's quality is good and they are doing a great job by creating an atmosphere that makes you feel like you've gone back in time while they are just serving delicious food.
1135 AD Restaurant, Amer fort
If you are visiting this restaurant, then you should try their Rajasthani thali from their menu. Looking at the beautiful Amer Fort and eating delicious food can be an experience for you that will eventually be unforgettable. By the way, don't forget to visit the majestic Nahargarh Fort near this restaurant.
6. Saba Haveli
There is a restaurant called Saba Haveli on Amer Road, which is good for foodies. You can try authentic Rajasthani flavors without compromising on quality food. 
Saba Haveli, Jaipur
There are several good dishes you can taste here, like Rajasthani  Gatte Ki Sabzi (a traditional Rajasthani dish made from chickpea flour dumplings in a spicy gravy) and Ker Sangri (a delightful Rajasthani desert bean), which will become your instant favorites.
These are the best restaurants in Jaipur for those who want to try authentic Rajasthani food.
7. Peshawri Restaurant, Jaipur
If you have heard about the famous restaurant in Jaipur, I am sure you have heard about Peshawri. At the ITC Rajputana on Palace Road, this restaurant is located. This restaurant is also famous for North Indian and Mughal food. 
Peshawari Restaurant, Jaipur
You can get good quality food by seeing the restaurant's dedication to serving the best dishes with rich flavors and amazing aromas. The signature dishes to try are Dal Bukhara and Sikandari Raan. 
This is one of the best restaurants in Jaipur for tasting Dal Bukhara.
8. Laxmi Mishthan Bhandar (LMB): Ranked among the Best Restaurants in Jaipur 
If we are talking about the best restaurants in Jaipur, this sweet shop is always on the list. Mishthan Bhandar is very famous and local people also call it LMB and LMB represents an icon of quality and tradition. Laxmi Mishthan Bhandar is always famous among people for its authentic Rajasthani sweets and vegetarian dishes.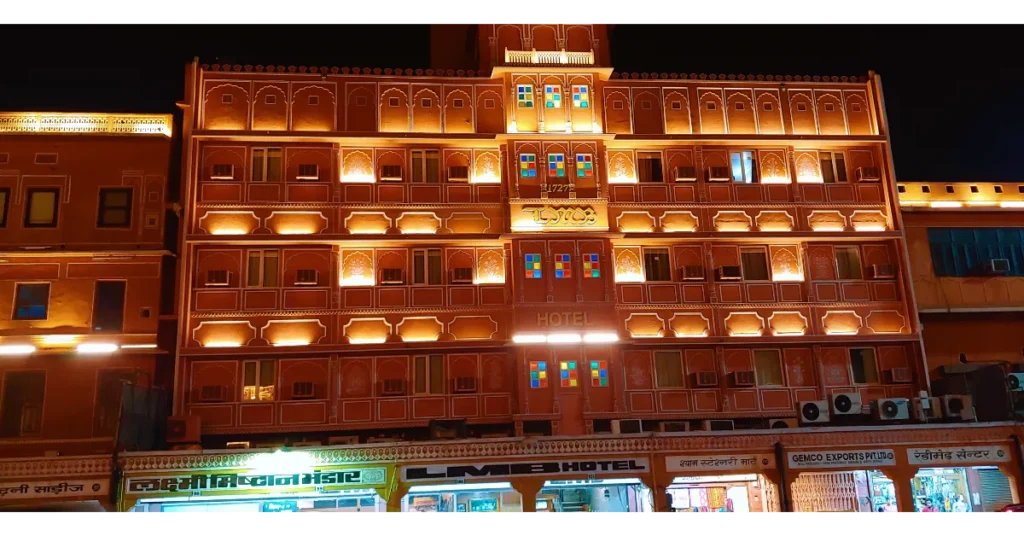 LMB (Laxmi Mishthan Bhandar), Jaipur
There are some people who are vegetarian and prefer vegetarian dishes so this is a good place for them. This sweet shop is very old and they are serving sweets from generations in Jaipur.
LMB is near Johari Bazaar, which is on MI Road. The quality of this shop's food and sweets is brilliant, which makes it best for locals and tourists. Dal-Baati-Churma, Pyaaz Kachori, and many famous Rajasthani dishes are the reason that this Mishthan Bhandar is the best restaurant in Jaipur.
9. Dragon House
In Sardar Patel Marg, near C-Scheme there is a good Chinese food restaurant. Dragon House is popular among people because of its good Chinese flavors and they are good at maintaining high standards.
Dragon House, Jaipur
They are exceptional in Chinese cuisine, such as the Schezwan Fried Rice and the Peking Duck. These dishes are highly recommended to try from their menu.
10. The Forresta Kitchen & Bar
Who doesn't like to party? And if you are a party person, do visit  Forresta Kitchen & Bar, which is on Devraj Niwas on MI Road. While we already talked about traditional foods, we can't forget to discuss some restaurants that serve good Italian food.
The Foresta Kitchen & Bar
You should try out dishes from these restaurants, like the wood-fired pizzas and pasta Alfredo.  The best restaurants in Jaipur for pizzas are definitely The Forresta Kitchen & Bar.
The food in Jaipur is stuffed with many flavors, which will blow your mind and these top 10 restaurants will not disappoint you as they are well known for their great food and tasty dishes. It doesn't matter if you like traditional Rajasthani food, North Indian flavors, or international dishes; you can find something good for yourself in Jaipur.
The best restaurants in Jaipur showcase the best of Jaipur's food in their own unique way and when you visit them, you will be amazed at the quality of these popular restaurants. While you explore Jaipur and look into its history, do not forget to try the delicious food at these places.