Best places to visit in Jaipur during Diwali
Diwali, the festival of lights and spirituality, brings joy and prosperity to all. The festival is celebrated with utter excitement, and what's better than to celebrate it in a vibrant place? Jaipur, the pink city, offering majestic forts to bustling bazaars, is a spectacle that captivates your senses during Diwali. Here we are with a perfect guide to the best places to visit in Jaipur during Diwali with your family with this perfect combination of Jaipur City and Diwali.
Johri Bazaar
Johri Bazaar is without a doubt one of the best places to visit in Jaipur during Diwali. As the name suggests, it's a popular market for jewelry. During the festive season, especially on Dhanteras, a huge crowd of visitors step there to purchase gems and jewels. The tremendous market offers you an amazing variety of gold, silver, utensils, etc.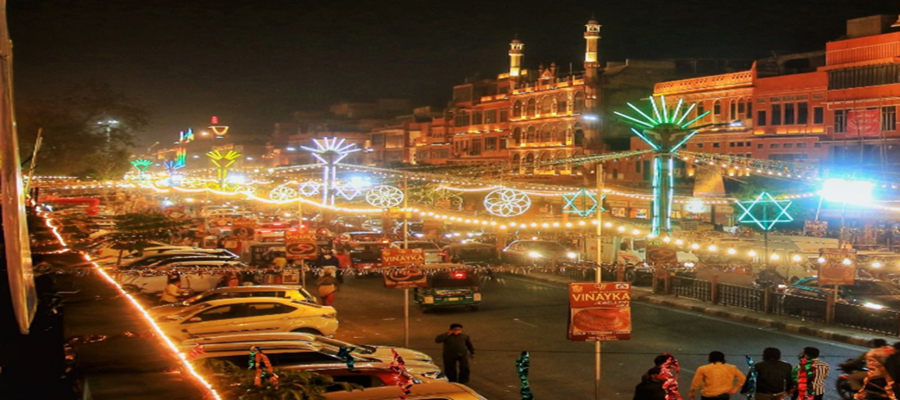 Johri Bazar on Diwali
The view during Diwali is so breathtaking that the destination deserves a spot on your bucket list. The vyapaari madal of Johri Bazaar gets the place so beautifully decorated that it attracts not only domestic but foreign visitors as well.
Nahargarh Fort
As you know, Jaipur is a royal city, and this Nahargarh Fort undeniably becomes one of the best places to visit in Jaipur during Diwali. The fort looks spellbound during every season, but on Diwali, it becomes enchanting.
View from Nahargarh on Diwali
Take a ride to Nahargarh Fort during sunset and behold the grace of Pink City turning Golden City, decked up with Diwali lights. Don't forget to miss the view of shining stars on the ground from the top of the fort. This proves to be one of the finest places in Jaipur, giving you a lifetime of memorable moments. 
Jal Mahal
Glowing like a queen during the festival days of Diwali is the Jal Mahal, with its true royal charm. You cannot miss the enchanting place in the pink while you're there during the festival.
Jalmahal Jaipur
The Mahal is decked up with sparkling lights in the spirit of Diwali, making it one of the best places to visit in Jaipur during Diwali. We bet you won't be able to forget the beauty of the water and the impression of glittering water under beautiful lights. The view is bound to leave you amazed at the Mahal situated in the Man Sagar Lake. You can go there to experience the real essence of Diwali.
World Trade Park
After marveling over the traditional architecture of Rajasthan, let's move on to a more modern choice for the best places to visit in Jaipur during Diwali.
WTP Jaipur on Diwali
World Trade Park, a modern structure constructed not long ago, is a very happening place, as you can go there to just hang out, shop, eat, watch movies, etc. WTP becomes more glorious during the festival of lights, with its own charisma and charm. Lights around the deluxe space with fireworks will leave you admiring the heavens of Pink City.
Gaurav Tower
Gaurav Tower offers you a plethora of experiences, from beautiful colorful lighting to tinseled buildings and bride-like dolled-up shops during Diwali. This feature of embracing the festival like none other makes it one of the best places to visit in Jaipur during Diwali. You will find people hanging out here in ethnic attire during the festival and a mesmerizing diversity of shops. Get trending clothes, etc., within your budget. The sparkling lights and fireworks make it a trendy hangout spot for every age group.
Nehru Bazaar and Baapu Bazaar
Cherish the two traditionally constructed markets, namely Nehru Bazaar and Baapu Bazaar, thus making them the best places to visit in Jaipur during Diwali. The spectacular lighting and decorations will leave you spellbound.
Nehru Bazar-Bapu Bazar on Diwali
These markets are known for their traditional essence in not only the construction but also the items available for shopping and the authentic Rajasthani food. These bazaars in Pink City offer you aesthetically appealing footwear, home decor objects, clothes, endowments, etc. Explore the markets for shopping and hummus.
Also Read: Best Places for Shopping in Jaipur
Akshardham Temple
Among the best places to visit in Jaipur during Diwali is the Akshardham Temple, a mini Vrindavan in Jaipur. Get out of the hustle and bustle of life and experience pure moments of peace and serenity.
Akshardham Mandir
You would feel the holy energies as soon as you stepped foot near it, especially on Diwali. Under the divine rays of Lord Shri Krishna's blessings, you will get goosebumps as you visit the place on Diwali, as the place is full of bright light decoration, mindful wisdom, traditional rituals, and bliss to give you peace of mind.
Statue Circle
Statue Circle makes its place in the best places to visit in Jaipur during Diwali due to its beauty during the festival days. It's famous for its cafes and street food, making it a great hangout spot. The place is adorned like a bride, attracting visitors to come and enjoy. This circle mainly connects with four roads from different locations. The majestic statue here is of Maharaja Sawai Jai Singh II, made of white marble, and it demonstrates Maharaja holding an astrological diagram, representing Maharaja's love for astrology.
Albert Hall on Diwali
Chaura Rasta
As the name suggests, it is simply a large pathway located in the heart of Jaipur. The large road is a popular marketplace comprising famous local shops. Grab some exceptional handicrafts like jewelry, textiles, and pottery from the many traditional trading shops here. Beware of the rush hours, and don't forget to click amazing pictures of this happening place.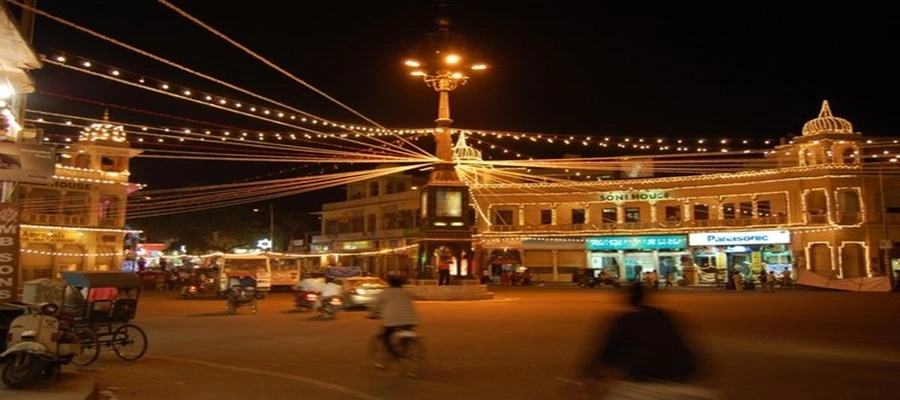 Paanch Batti Circle, Jaipur
During the festival days, it is in utter hustle and bustle with the beauty to behold with decorations and lights. The road is also famous for some popular temples, making Chaura Rasta one of the places to visit in Jaipur during Diwali. After you have roamed around Jaipur, it is time to celebrate Diwali at some of the best rooftop restaurants in Jaipur.
Conclusion
So here is your ultimate guide to the best places to visit in Jaipur during Diwali. You can opt from the multiple options of traveling i.e., by air, by train, by bus or an amazing road trip to reach Jaipur. With the festival just around the corner, this is your chance to do something fun and worth remembering. Pack your bags, take your family and friends along, and make this Diwali a memorable one.